Proven quality
ÖKOBIT biogas plants
ÖKOBIT biogas plants meet the highest technical standards. No wonder, biogas technology is based on more than a decade of biogas experience and the passion of our engineers.
The development of the plant systems has always followed the claim to combine the highest quality and economic efficiency over the entire service life of the plant. We use the best technology available on the market, which is carefully selected according to strict quality guidelines or specifically designed and further developed. After all, the quality of every detail determines the long-term economic efficiency of biogas plants. That is why we rely on technology and process solutions that have proven themselves in practice to be extremely resilient, low-maintenance and maintenance-friendly.
We build your biogas plant – individually and innovatively
With its experience, know-how and expertise in biogas plant construction, ÖKOBIT is also the first port of call for customers with a construction project involving special challenges. We comprehensively design profitable, operationally stable and substrate-flexible biogas plants individually according to the respective site conditions and input options. In doing so, it is our claim, especially in the context of biogas tenders, to comprehensively consider the wishes of our customers, i.e. to optimally adapt our concepts to the tender specifications.
ÖKOBIT biogas plants are convincing due to their cost-effective and compact design with minimal energy requirements. The result is above-average fermenter utilisation with maximum gas yield.
If required, ÖKOBIT develops sophisticated solutions for special requirements, such as:
Adapted container and plant concepts with limited space available
Integrated special solutions, for example for digestate drying
High-fermenter concepts
Difficult input compositions
Example: Agricultural biogas plant
Biogas plant with 650 KW or 165 Nm³ biomethane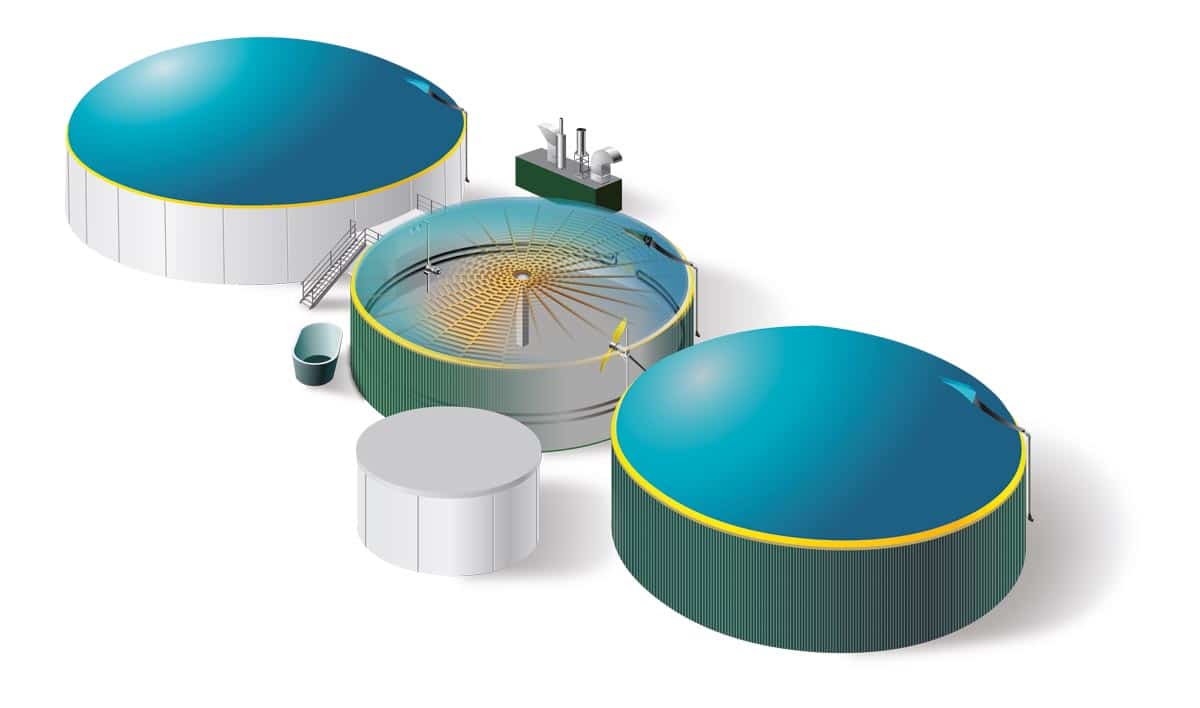 fermentation residue storage tank
Biogas from manure and slurry: The FarMethan biogas plant for future-oriented agriculture
For livestock farms such as dairy farmers, poultry, bull and pig fattening farms, horse owners and cattle breeders, the construction and operation of a FarMethane biogas plant means new, sustainable income opportunities. The use of liquid manure and dung is particularly promoted in the current EEG. Whether 75kw, 99kw, 150kw or more – we plan and build your FarMethane biogas plant individually according to your operational situation and the availability of substrates.
The advantages of a FarMethan biogas plant:
Substrate flexible, high manpower possible
Intuitive industrial process control system with load management and service module
Safe heat supply through temperature-monitored stainless steel heating system
Robust paddle and rod agitators with external motors
Short construction time due to high degree of prefabrication and fast commissioning
Durable air roof with screwed clamping rail system, stainless steel central support, desulphurisation net and effective ÖKOBIT desulphurisation filter
Spacious technical module
System proven over many years
Easy integration of existing tanks possible
Automatic operation
Low operating costs, low labour input
Heat utilisation for own use, e.g. in residential buildings, company buildings, etc.
More Details
FarMethan brochure
Alternative to electricity generation: biogas becomes biomethane
For biomethane projects, ÖKOBIT relies on processing methods that are ideal for the location, provides proven, flexible technology and guarantees flawless operation. ÖKOBIT advises you on a manufacturer- and process-neutral basis, selects the optimal treatment process for you together with you and perfectly matches the overall concept for the treatment to your wishes and needs.
ÖKOBIT advantages
Joint, manufacturer-independent selection of the most economical treatment process
Control via intelligent ÖKOBIT gas bubble control system
The prefabricated container construction ensures a quick construction process
Many years of experience with different treatment technologies and manufacturers
Optimal maintenance concepts
Example: Biomethane plant
Biogas plant with 2MW or 500 NM³ biomethane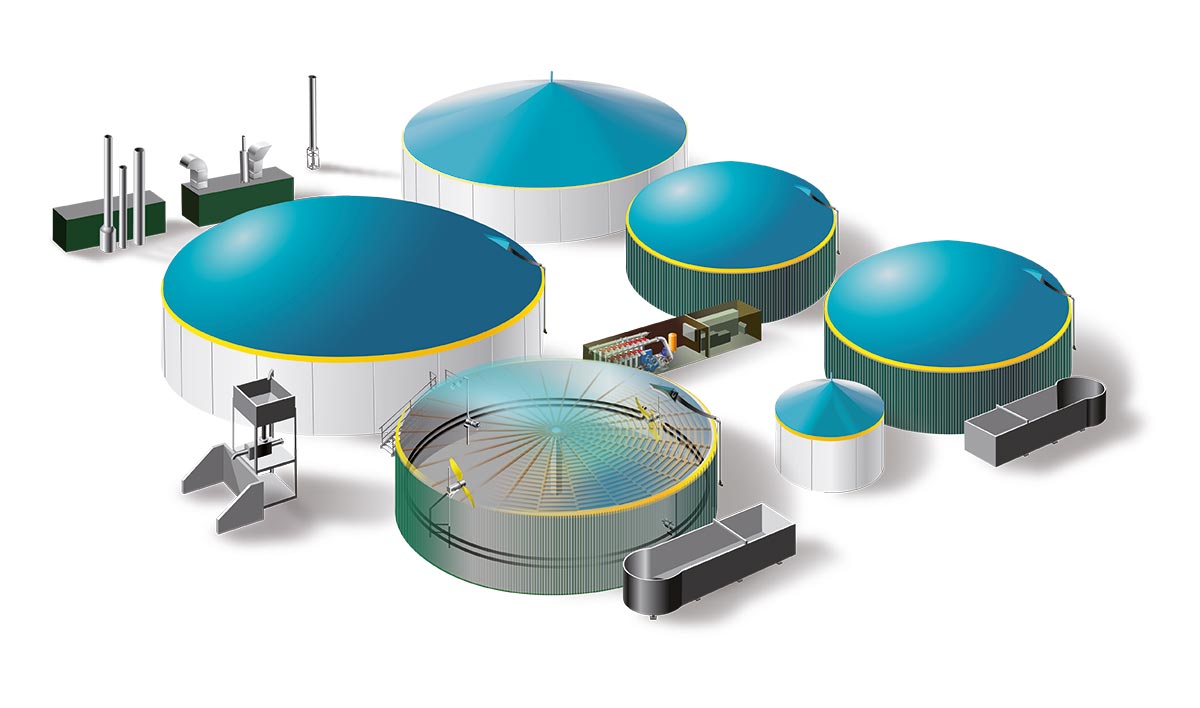 fermentation residue storage tank
Waste to Energy – Biogas plants for the fermentation of food waste and refuse
ÖKOBIT offers solid technology concepts for the economic disposal of biological residues on an industrial scale. Our modular waste fermentation and co-fermentation plants enable the process-safe fermentation of organic residues and waste – from food leftovers to slaughterhouse waste and residues from the food industry.
Input examples for waste fermentation plants
Slaughterhouse waste, fats
Vegetable waste
Distillery stillage
Dairy waste
Municipal grass clippings
Food waste, residues from the food industry
The right biogas plant for every challenge
ÖKOBIT is one of the most experienced and successful biogas partners for farmers, investors, energy suppliers and municipalities. No matter whether you want to realise a new plant or an economic expansion of your biogas plant: ÖKOBIT plants are precisely tailored to your needs. All of our plants are characterised by the highest possible functionality and cost-effectiveness, and thus by outstanding operator friendliness. ÖKOBIT builds biogas plants in all sizes and for all substrates. Whether agricultural biogas plants for the fermentation of liquid manure and dung, individual biogas and biomethane plants or waste plants for food leftovers and slaughterhouse waste.
We advise you in advance of your project with regard to different utilisation concepts: whether conventional marketing of electricity and heat, direct marketing or marketing of biomethane. After choosing the concept that suits you best, we plan and build your biogas plant and/or biomethane plant based on the plant systems we have developed.